Buddy's Story:
Buddy Joslin is an Australian Shepherd/German Shepherd mix and is about 9 years old. We brought Buddy home from the SPCA in July 2000 and he has been an official family member ever since.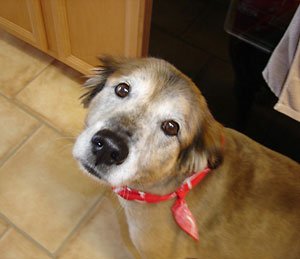 In October 2006 Buddy started limping around the house and being very sensitive to his back right leg. We took him to the Vet on 10/24/06 and were told the following:
"He has a torn ligament in his right knee. If we did not have the $3,000.00 surgery (plus recovery time), the injury would saw the remaining good ligament and cause him to put pressure on his other leg which would result in the same injury and create back problems as well".
It only took one month for all of this to take effect. December was a miserable month for Buddy. He went from being an active outside dog who loved to play to an inside dog with little activity. We had to make sure nobody threw his favorite football, so he wouldn't try to chase it, because he would regret it right away. He could no longer jump up on the bed or couch. We tried to make him as comfortable as possible.
I heard that my co-worker, Kim Mercer, was really good with animals and that several people had been going to her for treatment and vitamins. So I started telling her about my Buddy. At first she recommended a powder (Free & Easy) a Dynamite product which included glucosamine and a host of all other joint support ingredients, vitamins (Showdown) and giving him buffered aspirin. The vet prescribed Rimadyl, but after researching that product on-line, we thought that it would cause more internal damage than good. She also mentioned that she had an Electro-Acuscope that she thought would be a good treatment protocol for Buddy.
On 1/4/07, Kim started her treatments twice a week. I was very hopeful and skeptical at the same time. I had never heard of an Acuscope and didn't quite understand how it could heal him if we didn't have the surgery.
Unfortunately, Buddy just seemed to continue to get worse. He was having a really hard time getting up. He couldn't stand up long enough to even finish eating his food. There was a time that he would always be by my side and follow me into each room around the house and now he just stayed in one place. It was very difficult to see him be in so much pain.
In February 2007, it finally got to the point where I made arrangements to have Buddy put down. My husband and I agreed to let Kim look at him one more time and tell us what we should do. After looking into his eyes, petting him and doing another Acuscope treatment, she suggested giving him one more week. She said that he just didn't seem ready to go yet. Kim kept telling us to be patient and that it would take time.
Well it was sure worth the wait because by May 1, 2007 Buddy was doing so well that Kim cut the Acuscope treatments from twice a week to once a week. Then on May 22, 2007, we were so impressed by the results that Acuscope treatments were now going to be only twice a month!!!!!! And now at the beginning of July he is doing well enough to just get a check up each month.
Within 4 months, Buddy can now chase his football again. He feels so good that he can jump on the couch and bed too! He is still a little stiff when he gets up from a lying or sitting down position. But once he up he's good to go.
After he had his summer haircut we could tell that he lost some weight too. He looked like a brand new dog. You could tell he felt so much better.
In retrospect, it is absolutely unbelievable the progress he was able to make considering how severe his injuries were. I just couldn't fathom how the Acuscope treatments, mineral powder and vitamins could fix something that supposedly only surgeries could fix.
Kim is not only full of knowledge but a miracle worker as well. We will be forever grateful for all that she has done for our family.
Love, The Joslins
***Submitted with love by Kim Mercer, Certified Animal Acuscope Therapist