NeuroScope-230
The NeuroScope-230 is an indispensable tool in today's medical practice for the treatment of wide range complaints requiring long therapy or treatment prior and after major surgery. It is used as an adjutant tool to Electro-Acuscope and Myopulse therapy, where extended therapy requires additional treatments at home.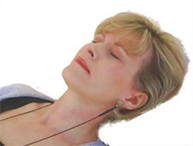 This unit was originally designed and developed for exclusive use in the area of Cranial Electrotherapy Stimulation for medical and physiological benefits.
The NeuroScope-230 provides a comfortable, convenient and reliable method of administering Cranial Electrotherapy Stimulation without electrical sensation. Cranial Electrotherapy is known to be effective in alleviating symptoms of anxiety, depression, insomnia, as a treatment for acidity, migraine headaches and during drug withdrawal and alcohol rehabilitation.
The NeuroScope-230 can be successfully used to prevent venous thrombosis by improving blood circulation and as a pain control device with tissue balancing effect in a long-term chronic problem.

To Order Call, Fax or Email Animal Therapy Systems
We accept Checks, Money Orders and All Major Credit/Debit Cards

NeuroScope-230 Specifications
Power On Switch - Depress to turn ON Power. Leave in Off Position to charge the batteries.

Power ON LED indicator - Light is steady when power is ON, flashes when treatment cycle is engaged.

Lo Battery LED Indicator - turns ON when battery voltage drops to a preset level.

Timer - 5.0, 15 min & Cont.
Left Button IN = 5 Minutes
Right Button IN = 15 Minutes
Both Buttons OUT = Continues

Frequency - 0.5, 4.6, 8.2, 12.8 Hz.
Left Button IN= 4.6 Hz
Right Button IN = 8.2 Hz
Both Buttons OUT = 0.5 Hz
Both Buttons IN = 12.8 Hz

Intensity - 25, 100, 300, 400, uA RMS.
Left Button IN = 100 uA
Right Button IN = 300 uA
Both Buttons OUT = 25 uA
Both Buttons IN = 400 uA

Output - Complex Wave Form, Modulated Square Wave Envelope
Frequency Modulated Pulse train with Alternating of Current Polarity each 1.5 Seconds.
Electrode Outputs - Banana Jack Type
Left = Active - Right = Indifferent

Cycle Trigger Switch - Depress to activate treatment

Charger Input - with charge ON LED

Power Supply - 8.4 V Rechargeable NiCd Battery - DC Charger module included

Included accessories - Set of placement cup electrodes - Stick-on collars - Headband with wires - Electrolyte - Charger module.


Major credit cards accepted by phone, fax or email.
Financing Options Available